A neighbor of Bill and Hillary Clinton is poking fun at them in the wake of an email scandal that has threatened to derail former secretary of State Hillary's potential presidential run.
Gary Murphy, who lives down the road from the Clintons in Chappaqua, N.Y., posted a sign at the end of their street with the message: "FOR SALE. Used Email Server. Clean Hard Drive. 15 Old House La. — See Bill."
The sign was referencing the scandal involving Hillary Clinton's use of a private email address during her time as secretary of State (2009-2013) in the Obama administration. The email address was set up on a server located at the Clintons' Chappaqua home.
The Daily Voice report claims Murphy's satirical sign was posted at the intersection of Old House Lane and Route 117, near the Clintons' home.
In a separate Washington Post interview, Murphy said the idea to create the sign came to him after listening to Clinton explain the scandal during a Tuesday press conference.
"I listened to that press conference, and something bothered me … it seemed like such a controlled environment," Murphy told the Post. "It was kicking around in my head, just because she says it's over doesn't mean it's over. … It was a real arrogant way to do it. "I see her playing the bully and the victim, and I don't think you can be both."
Meanwhile, a Business Insider report from Wednesday quoted an expert who said Clinton's body language as she answered questions about the scandal showed "a high level of discomfort."
From what we can tell, this is the Hillary Clinton's actual mailing address which means a Shame Notice goes out Monday. We're not taking sides here, just doing our job.
No Comments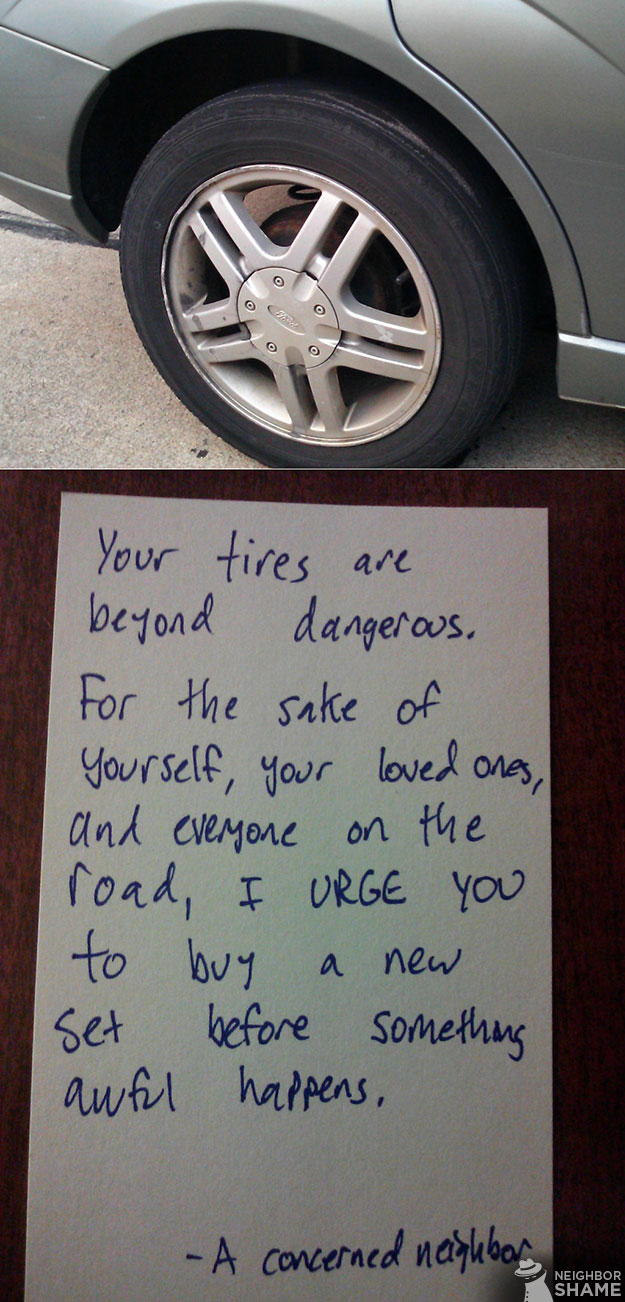 "My neighbor has insanely bald tires. I had to leave a note today. Good samaritan or asshole thing to do?" – Jason H.
5 Comments

"I came home to this in my neighbor's window." - Greg
Neighbors. They say the darndest things!
8 Comments
"My friend's neighbor likes to take her turtle for walks"
6 Comments

THE HALL OF SHAME