Funny Neighbors
"The roof! The roof! The roof is on… tire!!! Well at least the lawn looks good and they're not hoarders… just can't figure out why you would line your roof with tires? I'm not buying the insulation reasoning." – T.J.

New Hampshire
4 Comments
"Spotted these friendly neighbors on my recent road trip." - Daniel V
1 Comment
"Thanks to Iowa State and my neighbors, we've learned that semen is not water soluble…" - Shae
No Comments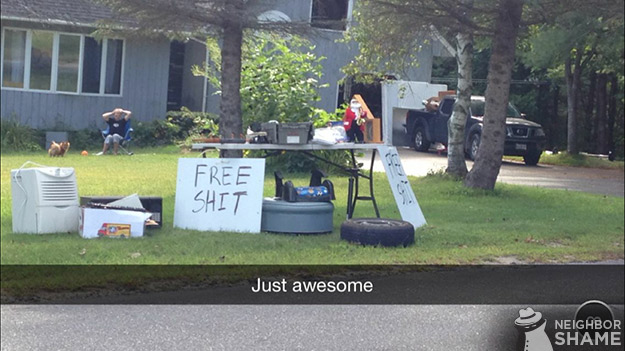 "From my hometown in Lisbon, Maine." - J.H.
Lisbon, Maine
2 Comments
We're giving this an A for effort and a solid D- for appearance given the awkward-looking siding on the house. But who really cares what we think… what's the verdict – tasteful or tacky?!
- Milo, Maine
8 Comments

THE HALL OF SHAME