Neighbors
11.20.
The swastikas and flags are pretty self-explanatory but your guess is as good as ours when it comes to the guy with his hands up. This guy in Sacramento California has caused quite a stir in the neighborhood and has many neighbors very upset. The majority reportedly respect his freedom of his speech with his 'art' as he calls it, but they think this has gone too far. What do you think?
At least he's festive!
California
7 Comments
11.13.
"I guess they were sick of getting knocks on their door by strangers." – C.V.
5 Comments
11.05.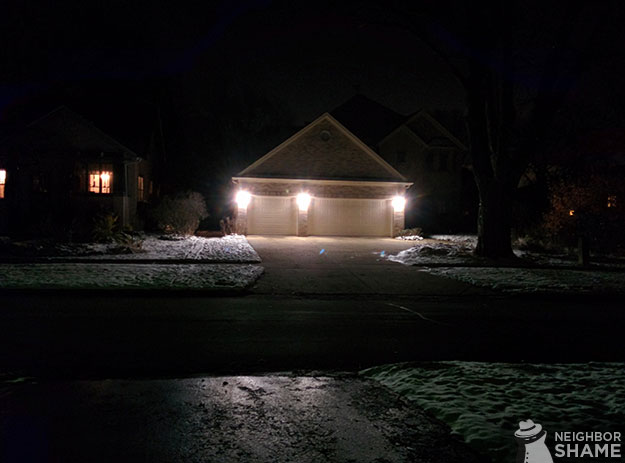 "Can you believe this? My neighbor installed these last week and it's like daytime in my living room!" – Samantha R.
Virginia 
9 Comments
08.05.
"My neighbor is leaving me hate mail cause I'm too lazy to bring down the trash."
Picture by @Alyssainthecity
6 Comments
08.03.
An intoxicated St. Paul man drove through his garage and crashed into the house of his neighbor Friday evening, according to police. Thomas Falk, 70, was arrested on suspicion of gross misdemeanor driving while intoxicated. Tested at the scene, Falk registered a blood-alcohol level of more than 0.20. The legal limit for driving in Minnesota is 0.08.
Officers were called Falk's house, at 988 E. Orange Ave. in the Payne-Phalen neighborhood, just after 6:15 p.m. They found Falk's pickup truck crashed into the rear of his next-door neighbor's house.
Investigators determined that Falk had driven through the back wall of his garage, which faced a rear alley, across his back yard and into the back yard of his neighbor, where the pickup struck the neighbor's house.
No one, including Falk, was injured in the crash. Falk was arrested without incident and booked into the Ramsey County Jail. Tad Vezner can be reached at 651-228-5461. Follow him at twitter.com/SPnoir.
4 Comments