Is there just absolutely no place to put your trash in Porter other than your yard? This is par for the course "round these pahhts". Shame Notice has been sent.
- Porter, Maine
No Comments
"Alligator hedge neighbor down the street – it's such a cute house, but I think this is so tacky!!"
- Sam, Massachusetts
1 Comment
Well, they don't call it the 'Live Free Or Die' State for nothing and these shameful neighbors aren't letting that mantra go to waste. I suspect that a summertime drive-by would yield the same Holiday Decorations and trash. 
- Rochester, New Hampshire (Route 202)
No Comments
"Found this note in the lobby of my apartment complex. Who says a dog pooped in the lobby and not a person

"
- Frank, Connecticut
3 Comments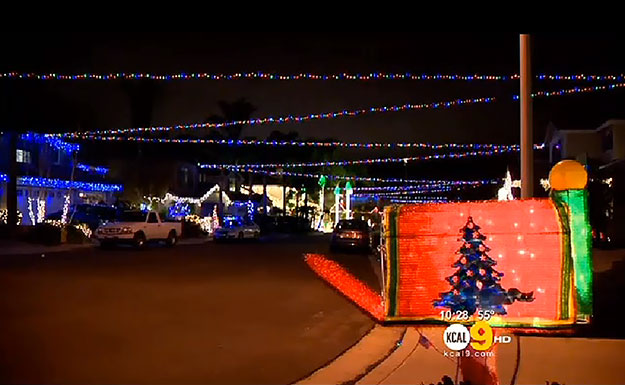 For five years, neighbors in the Wagon Wheel neighborhood of Trabuco Canyon have strung Christmas lights between their homes, with 35 houses participating in the tradition this year. Trabuco Canyon, CA residents are fighting back after the county threatened to fine them if they did not remove their neighborhood's Christmas lights, which authorities say are a safety hazard. 
On Nov. 27, Orange County Public Works sent letters to some homeowners stating they will be fined or prosecuted if they don't remove their lights. "I thought it was ridiculous. It just didn't make any sense to us, and they gave us no out, so we were all pretty outraged," said resident Brian Kopiec, who said the lights represent unity in the neighborhood. Residents fought back after receiving the letter. Neighbor Dannielle Jubb handed out permits to fill out Tuesday night in hopes of resolving the dispute.
SEE THE FULL STORY AND VIDEO HERE
(Trabuco Canyon, CA is a small, affluent unincorporated community located in the foothills of the Santa Ana Mountains in eastern Orange County, California, and lies partly within the Cleveland National Forest.) 
2 Comments

The Hall Of Shame
Top Neighbor Notes
Must-See Neighbors