Funny Neighbor Stories
10.18.
Waco, Texas: An 85-year old Texas woman has been arrested by local law enforcement after being caught on film kidnapping one of her neighbor's cats with which she is accused of making fur coats.
The recent disappearance of domestic animals in the neighborhood started to arise suspicion from local residents when some people started to notice the old lady's particular fur coats, some even recognizing their cats in the coat's furs, a fact the lady vehemently denied before being caught on videotape by a private detective hired by local residents to follow the suspicious lady.
It is believed the old lady started at first to raise her own cats but finally decided to capture neighboring cats because she "got too much attached to the little critters", she admitted in court.
The retired fashion designer lured neighborhood cats with food and skinned them in her basement where she dried the skins. She also used the meat of the cats to lure other cats who unwittingly were eating their own species, a disgusting and cruel hobby admits local PETA spokeswoman Jane Churchill.
Legal experts assess the 85-year old woman could spend up to 18 months in jail for her crimes.
3 Comments
08.06.
Woman killed, dismembered Brooklyn mother over $200, spread body parts across Long Island, cops say
Leah Cuevas was renting out a room in her dead uncle's apartment to Chinelle Latoya Thompson Browne, but there was a dispute over a $200 electrical bill that escalated to murder, cops say. Browne's arm, head and torso were then found on different properties throughout Long Island. A Brooklyn woman decapitated and dismembered a mother of four and then scattered her remains in pieces across Long Island over a measly $200 dispute, authorities and neighbors said Thursday.
Leah Cuevas viciously hacked away at the 27-year-old's neck and torso — cutting off her head — during a dispute over money inside a Brownsville apartment building July 5, officials said. "No, Leah! What you doing?" a neighbor heard Chinelle Latoya Thompson Browne's gut-wrenching scream during the fatal attack. "Oh, no! Oh, no! I'm sorry! I'm sorry!"
Cuevas cursed back at Browne, telling her to "Shut the f— up," according to court documents. "The scare in (Browne's) voice was like nothing I ever heard before," a witness told detectives. The bitter hatred between Cuevas and Browne was sparked by a dispute over rent and utility payments, court documents show.
Cuevas, 42, charged Browne $400 a month for a room inside her dead uncle's Sumpter St. apartment, but wouldn't provide hot water or reliable electricity, court papers say. The Guyanese immigrant, who came to the U.S. just a year ago, refused to pay Cuevas $200 for electricity she wasn't getting, neighbor Donald Watson, 49, told the Daily News.
"(Browne) was tired of paying for lighting and having it go out, or the refrigerator going out and spoiling the food," Watson said. "(Browne) said she wanted to take her money and move out but the landlord said, 'No.' She wanted the $200 . . . but Browne said, 'I need the $200 to move out.'" Browne also accused Cuevas of having sex with a man on a city bus, allegations made in front of Cuevas' husband, court documents show.
Body parts belonging to Chinelle Browne were scattered from Brooklyn to Bay Shore. The conflict came to a grisly and tragic climax on July 5. "That was the last time (Browne) was heard alive," Suffolk County Assistant District Attorney Robert Biancavilla said.
On July 8, Browne's severed legs and torso — which bore a tattoo that helped police identify her — were found in a municipal parking lot in Bay Shore near the Fire Island ferry. It was less than a mile from the home of Cuevas' sister, prosecutors said. The next day, an arm was discovered on the front lawn of a home in Hempstead. A second arm was found a day later. Browne's head was discovered on Boylston St. near Chamberlain St. in Hempstead on July 17, officials said.
No Comments
04.12.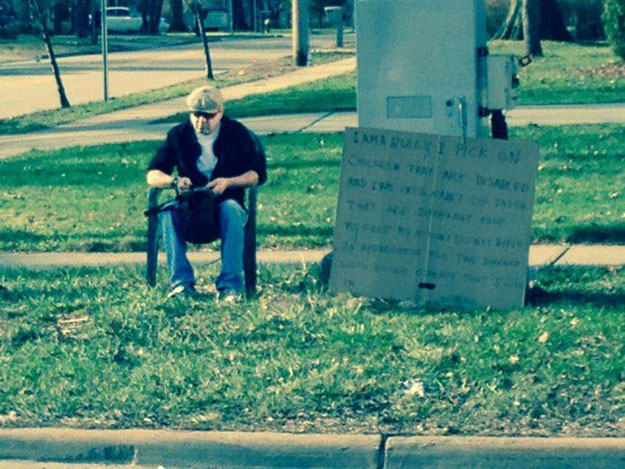 SOUTH EUCLID, Ohio — The man accused of bullying his neighbor for the past 15 years is standing at an intersection here with a sign that says he bullied disabled children following a judge's order.
Aviv, who pleaded no contest to a fourth-degree misdemeanor charge of disorderly conduct, is ordered to stand at the intersection until 2 p.m. with the sign that says: "I AM A BULLY! I pick on children that are disabled, and I am intolerant of those that are different from myself. My actions do not reflect an appreciation for the diverse South Euclid community that I live in."
Court records say Aviv feuded with neighbor Sandra Prugh during the last 15 years. Prugh has two adult adopted children with developmental disabilities, cerebral palsy and epilepsy, a husband suffering from dementia and a paralyzed son.
Records say the most recent case stemmed from Aviv being annoyed at the smell coming from Prugh's dryer vent when she did laundry. Court records say Aviv tried to sue the family in 2010 because the smell bothered him. The case was thrown out. Shortly after, Aviv dumped fabric softener on Prugh's lawn, the letter says.
Court records say Aviv made a device that linked kerosene to a fan in his garage. The fan blew the smell onto Prugh's property, reports say. Prugh called police on April 9 and April 11, 2013, reports say. Firefighters and police discovered the kerosene contraption and made Aviv dismantle it, reports say.
Prugh's letter to the court says that in 1998, Aviv jogged past her and spit on her. He later spit on her again while she was planting flowers in her backyard, the letter says. Aviv later called Prugh a "monkey momma," according to the letter. The letter says Aviv used the slur while she held her two adopted African-American children with disabilities. Prugh also claimed Aviv regularly threw dog feces on her son's car windshield and once smeared feces on a new wheelchair ramp the family built for their disabled children.
2 Comments
04.01.
San Marino Mayor Dennis Kneier got into trouble over the weekend after tossing a bag of doggy doo-doo on his neighbor Philip Lao's yard. Unfortunately for the southern California official, Lao's surveillance camera caught him in the act, and Kneier was forced to apologize for the incident.
San Marino Mayor Dennis Kneier had been walking with his wife Liz that day when he noticed the bag by a lamppost. Instead of disposing of it, he threw it onto Lao's doorstep— something the neighbor felt was done intentionally, as the two have been at odds in the past. Lao has a large "No Poop Zone" sign in his yard that neighbors repeatedly asked him to remove, and he has been staunchly against a proposed dog park in the area.
So when Lao checked the footage to see how the paper bag of dog poop got on his property, he was upset when he found out that it was the Mayor Kneier. "We have not been able to sleep at night for a while because of this," Lao told The Los Angeles Times.
However, Kneier said what happened was unintentional, and he never intended to fling the refuse onto his neighbor's property. "I didn't think about it. It was not premeditated. Nobody put a gun to my head and said put it down there," the mayor explained. He added that he wasn't concerned about the proposed dog park or the sign.
"Rather than leave it or dispose of it properly, I placed it on your side walkway," the mayor wrote to his neighbor Monday. "This was a mistake, for which I apologize. It won't happen again." Lao has not accepted Kneier's apology, saying the mayor is "lying" about how the events took place. He plans to address the City Council during their regular meeting Wednesday.
5 Comments
01.15.
MEMPHIS, TN – (WMC) – A man is behind bars after police say he fired a shot at his neighbor. The reason for the shot? A dispute over tall grass.
A security camera and warning signs surround Darrel Brock's home on Tulip Road. Now, his neighbors say he is using more than just his security cameras to keep his property safe.
Memphis police officers say the dispute began after Brock filed a complaint with code enforcement regarding tall grass at his neighbor's house.  According to police, the neighbor, Tony Harris, saw Brock come around the corner of his house armed with a handgun. 
That's when police say Brock pointed the gun at Harris and fired one shot. The bullet missed Harris. "When he made that move and came from around the back of his house and he shot at my cousin, I knew right then something was going on," said another neighbor, Steve Bush.
Neighbors along the normally quiet street are worried about what happened and what Darrel Brock will do when he gets out of jail. They say there are children living along the street who don't need to be victims of random gunfire. Neighbors say they plan to lay down the law to Brock once he gets back home.
"Shape up or get out," said Bush. "That's just the way I see it. We don't need no trouble on this street after 25 years. We've never had that many problems down here." Darrel Brock faces one count of aggravated assault. He is set go before a judge for the first time Thursday morning.
2 Comments