Neighbors
08.01.
"That neighbor stalks me all the time. I hate that our buildings are so close to each other."
Picture by @meli_res
5 Comments
07.28.
 CLICK HERE TO SEE THE OTHER 9!
No Comments
07.23.
"I literally watched this woman pull up to the left and parallel park her PT Cruiser into this spot opposite traffic flow. Unf*ckinbelievable – it's always a woman right???" -CJ
Bangor, Maine
9 Comments
06.05.
This one gets the green light here at Neighbor Shame, we've seen our fair share of shameful mailboxes and this isn't one of them!
Maine
5 Comments
06.01.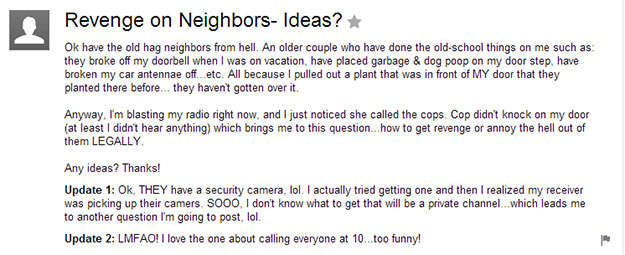 We've all had that sh*tty neighbor that's made us seek revenge in some childish way. Here's a few stories we thought were pretty funny. Can you top these revenge stories?! SHARE YOUR NEIGHBOR STORY WITH US!!
9 Comments