Ohio
07.19.
CINCINNATI — Talk about a nightmare before Christmas. An Ohio homeowner was ordered by town officials to remove a Nativity scene in front of his house that featured zombies instead of wise men and a baby Jesus.
"I wanted a Nativity and I worked with what I had," Jasen Dixon, who manages a nearby haunted house. "The neighbors don't like it. My father hates it and anything bad that happens he blames it on that."
The Nativity scene features life-size figures and a zombie baby Jesus, with pale skin and pure white eyes. At night, the figures are illuminated by red and green lights."I didn't really pay it any attention until the different color lights came on, then finally the baby was put in the manger," Dan Fluker, a neighbor, told the station. According to documents obtained by Fox 19, Sycamore Township, which is outside Cincinnati, does not allow structures to be located in the front or the side yard to occupy more than 35 percent of the area. Also, the primary structure must be 3 feet from the street, and 6 feet from the house.
Dixon, who manages 13 Rooms of Doom, says this is his second violation since the exhibit was put up. He indicated that his First Amendment right is being infringed upon due to the religious element."I've lived here for 15 years and I've never had a violation of any kind," Dixon said.  "It's a holiday decoration.  I know if it was a real pretty Nativity scene they wouldn't be saying anything."
Dixon, who said about 40 people take photographs of what he calls "the world's first zombie Nativity scene," has until Dec. 26 to take down the scene. If he does not take down the exhibit, legal action will be taken. It is unclear if Dixon will fight the town, but when one person on his Facebook page urged him to keep the display up, he responded, "Dangers my middle name."
4 Comments
05.09.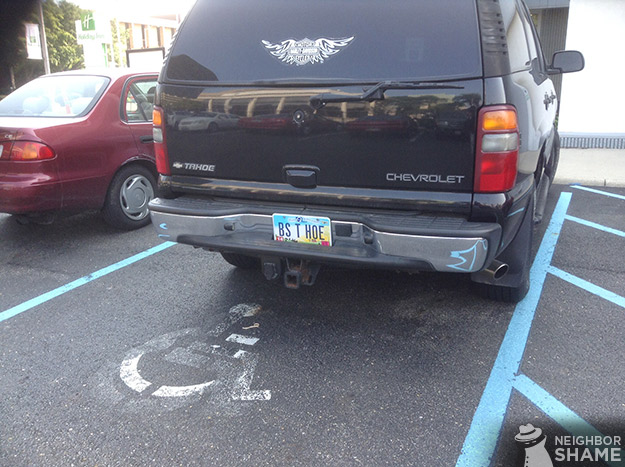 "Worst neighbor or best neighbor?" – GS
Ohio
2 Comments
04.12.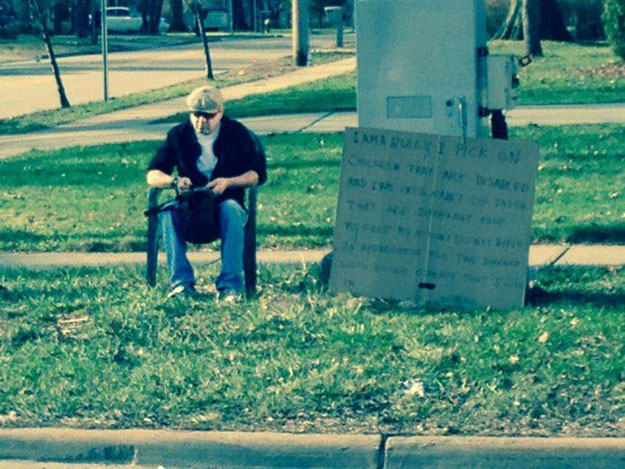 SOUTH EUCLID, Ohio — The man accused of bullying his neighbor for the past 15 years is standing at an intersection here with a sign that says he bullied disabled children following a judge's order.
Aviv, who pleaded no contest to a fourth-degree misdemeanor charge of disorderly conduct, is ordered to stand at the intersection until 2 p.m. with the sign that says: "I AM A BULLY! I pick on children that are disabled, and I am intolerant of those that are different from myself. My actions do not reflect an appreciation for the diverse South Euclid community that I live in."
Court records say Aviv feuded with neighbor Sandra Prugh during the last 15 years. Prugh has two adult adopted children with developmental disabilities, cerebral palsy and epilepsy, a husband suffering from dementia and a paralyzed son.
Records say the most recent case stemmed from Aviv being annoyed at the smell coming from Prugh's dryer vent when she did laundry. Court records say Aviv tried to sue the family in 2010 because the smell bothered him. The case was thrown out. Shortly after, Aviv dumped fabric softener on Prugh's lawn, the letter says.
Court records say Aviv made a device that linked kerosene to a fan in his garage. The fan blew the smell onto Prugh's property, reports say. Prugh called police on April 9 and April 11, 2013, reports say. Firefighters and police discovered the kerosene contraption and made Aviv dismantle it, reports say.
Prugh's letter to the court says that in 1998, Aviv jogged past her and spit on her. He later spit on her again while she was planting flowers in her backyard, the letter says. Aviv later called Prugh a "monkey momma," according to the letter. The letter says Aviv used the slur while she held her two adopted African-American children with disabilities. Prugh also claimed Aviv regularly threw dog feces on her son's car windshield and once smeared feces on a new wheelchair ramp the family built for their disabled children.
2 Comments
10.13.
"Notice posted at Harbortown Mobile Home Community, Vermilion , Ohio" – Joe
Ohio
No Comments
06.27.
"My neighbor using his canoe in my backyard." Picture by @TanyaORourke
Ohio
2 Comments