Oregon
05.08.
"It was when I lived in SE Portland, OR.  That family had a habit of collecting EVERYTHING and then displaying it randomly on their front lawn.  For  a long period of time they had a toilet sitting right in lawn. I asked them about it and they told me they eventually planned on switching the toilet out with their broken one. To me it looked more like "come take our free toilet".  They also had about 20 bikes all over the outside of their house. My roommate and I called them the kooks."
- Katt Jones, Oregon
No Comments
03.10.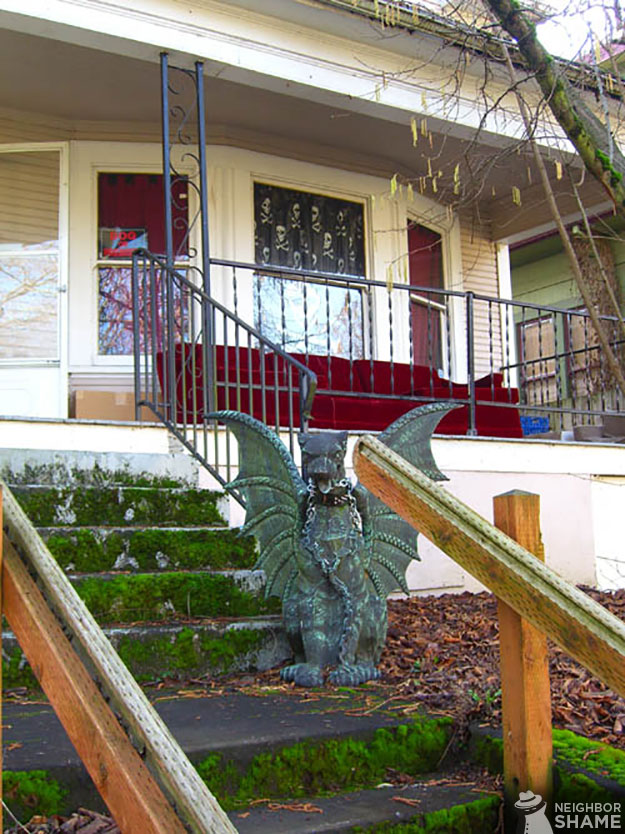 "Gargoyle in P-town. I'm just glad this one is chained up! Note the Jolly Roger curtains, too. Oh, Portland…"
- "Truth", Portland, Oregon
1 Comment
02.05.
"This house always perplexes me. Why the tin foil? What's going on in there? It looked really cool in the evening sun this day, though. Lately, there has been an enormous note written in marker on the front door, instructing FedEx and UPS to go around back. What is she expecting? Deliveries from aliens?"
- Sarah, Portland, Oregon 
5 Comments
01.22.
"Our Peruvian neighbor assembled this heap of garbage in front of her house. Not the Christmas Lights on the rain gutters, but the picture was taken in August!"
- Dan Bullard, Oregon
3 Comments