Oregon
04.19.
"I can't help but laugh every time I pass this driveway. Anyone who can afford to drive a $65,000 BMW and live in a  million dollar home should be able to afford a better solution to get it in the driveway than scrap wood!"
– Sandra, Oregon
5 Comments
01.22.
"Cleverly kept up their Halloween decorations and just made them "Christmas-y" by adding Santa hats (okay submitted by the actual owner not the neighbor, but our neighbors would if they knew about the website!)."
– D, Oregon 
No Comments
08.21.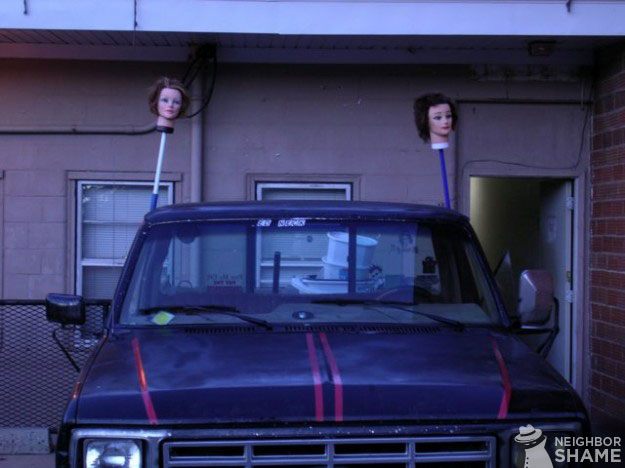 "Yes, those are mannequin heads on his pickup. He got them from a dumpster and drove around town with them on his truck." – Dawn
Oregon
1 Comment
07.07.
PORTLAND – Everyone knows that moving is a hassle, especially if you are moving the whole house, literally down river.
But it's just another day for the folks at Ducks Moorage 11699 NE Marine Dr.  At about 6 a.m. Wednesday, a crew pushed Ducks' latest custom-built floating home into the water and readied it for a 12-hour trip down river.
By 8 a.m. startled neighbors, seeing a house floating down by the Glenn Jackson Bridge, started calling around to make sure someone's home hadn't broken lose. "It's not something you see every day," said Duane Dominguez of nearby Columbia Ridge Marina.
The 2,000 square foot, single-story home costs about $229,000. On Wednesday it headed down the Columbia and down the Willamette to its final moorage at Rocky Pointe Marina, according to Denise Olson at Ducks.
Though the home is custom-built, it doesn't have any fancy features like a trap door you can fish through or an underwater fireplace. "It's just a nice home for a couple to live in," Olson said.
The company builds floating homes from the modestly scaled to $1 million, multi-story houses. Olson said business is picking up and that's keeping them and a host of subcontractors busy. "It takes a lot of river rats to get something like this going," Olson said.
No Comments
05.13.
"With the appearance of the fake spring we had recently here in Portland, this flock of pink flamingos landed in my neighbor's yard. They were strangely still and unmoving, almost like those little plastic pink flamingos that live mostly in retirement villages in the south. I prefer to think that no one would do this to their yard intentionally, so I choose to believe that it must have been a wild flock posing as the crappy plastic variety."-Dawn
Oregon
9 Comments