New Jersey
12.24.
"This was what was done to our decorations one night. We woke up to Santa having a little too much fun on our lawn…"
- Jennifer, Medford, New Jersey.
4 Comments
12.14.
New Jersey
No Comments
10.30.
"Why do cops feel the need to 1. park wherever the heck they want and 2. leave their car running? PS he does this EVERY DAY." 
- Alex, NJ
Let me fill you in on what's going on here with Officer Dickhead: he's banging one of your neighbors. If you are as crazy as we are, you should put a Shame Notice on his windshield and call him out!
No Comments
09.24.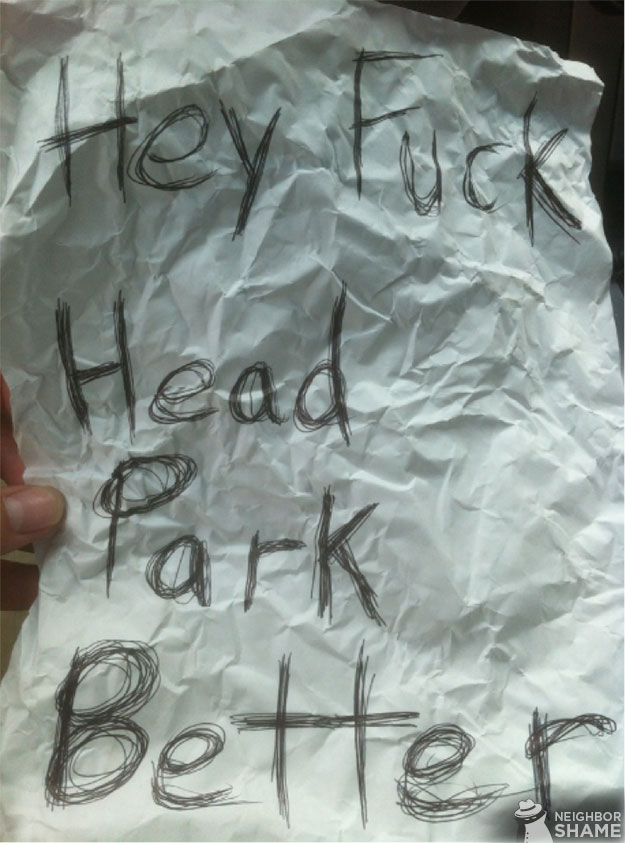 "I need to move to a nicer neighborhood"
- New Jersey
4 Comments
09.19.
"Kind of a funny story with my picture. I received my neighbor across the street's mail and walked over to deliver it and found this note.. I obeyed the sign and dropped the mail on the floor after screaming HI MY NAME IS TRAVIS AND I HAVE YOUR MAIL!!!"
- Travis, New Jersey
1 Comment