Shameful Neighbors
05.09.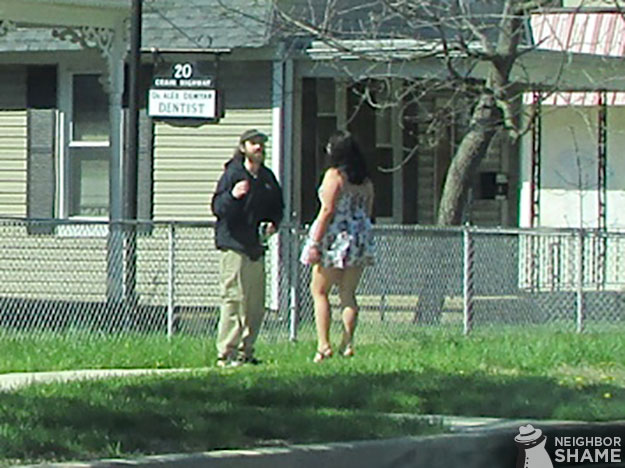 "my downstairs neighbor John. heroin addict and constantly fighting with his gf. here they are having their daily screaming session in downtown."
Maryland
4 Comments
04.15.
"COUPLE REASONS TO GET A FENCE"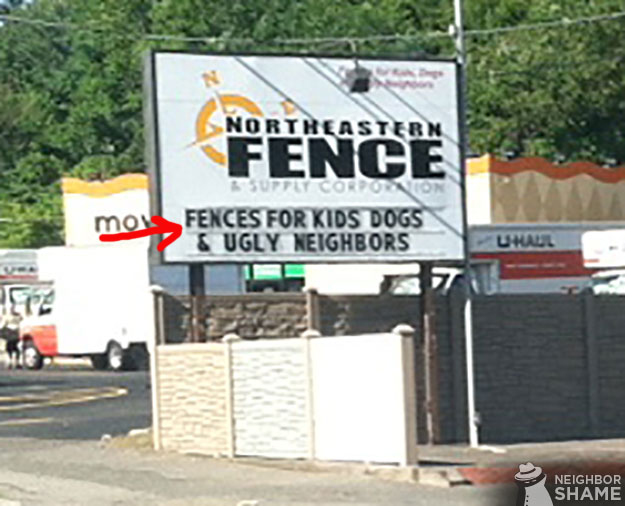 I honestly can't think of a better marketing campaign for fences. Well Done.
Saugus, Massachusetts
2 Comments
02.18.
"This doesn't happen in just the NE. Our asshole tweeker neighbors needed shade while working on stolen bicycles. So they threw a gallon of old waste oil and a wornout motorcycle sprocket over the power lines and phone line to hang a blue plastic tarp.." – Dave R.
1 Comment
01.19.
"You're a mean one Mr. Grinch.
Our neighbour and I put up on our shared property a similar snow globe as the one in the picture last year without any problem… This year when he came home he decided to pull the pegs out on his side.
I've put up with a lot from him. His blasting of Bob Marley, the stealing of my plants and him putting them in the compost…. But this takes the cake.
I'm fantasizing one day of buying an inflatable grinch to put up on my side with an arrow pointing to him. Talk about no Christmas spirit.
I hope you move!" – Alison
11 Comments
01.15.
"Oh look @NeighborShame it's the rotten neighbor who leaves her cat out in the snow and cold!"
From Twitter follower @spudgrrl2014
12 Comments