Vermont
07.11.
Every time we come across a neighbor as unique as Bob here, there's bound to be something else out on the web. CLICK HERE to check out a bizarre YouTube video Bob made for his welding art!
Lyndon, Vermont
4 Comments
07.10.
Not too often do we get the ol' thumbs up but these guys were pretty proud of their fancy rooftop guardian. It's not always about hoarders and buttcracks, there's some funny neighbors out there too!
Lyndonville, Vermont
No Comments
07.10.
I love a good life-sized lawn ornament and this neighbor has a yard full of them. Check out this 'Kung Fu' character!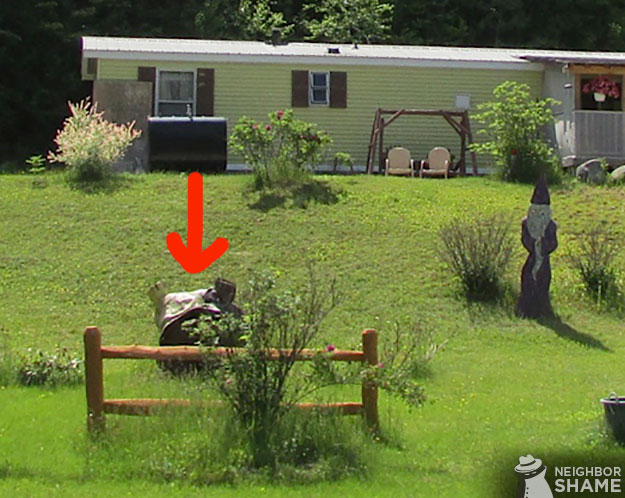 And Santa just lays down until it's time for Christmas. At least they make some kind of an effort…
Newark, Vermont
No Comments
07.10.
Anybody remember the boxcar children series? That's all I could think of when we saw this. Brings back good memories!
Vermont
2 Comments
07.09.
"My neighbor down the street put christmas lights on these pigs that appear to be flying. I guess it's probably good advertising?" - Gracie
Vermont
No Comments