New Hampshire
08.07.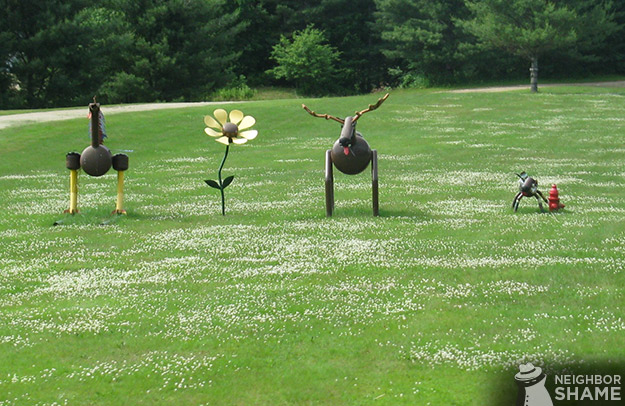 "I guess this is supposed to be like one of those stick families on people's cars. Love the little moose looks like he is peeing on the fire hydrant! I guess that's their 'dog'? lol" - Jess
New Hampshire
No Comments
08.06.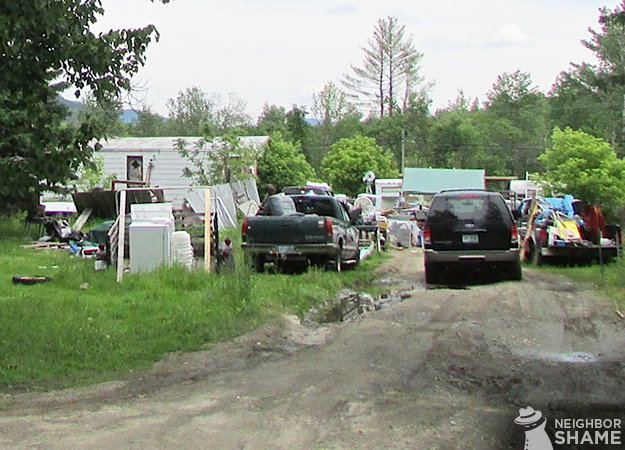 Front (above) and back (below)
I love it when a property is so shameful it needs no introduction… other than the address of course. Piglets!!
133 Old Village Rd Northumberland, New Hampshire
1 Comment
07.30.
That house is looking pretty sad… and I'm pretty sure that door is either from a refrigerator or a 1970's camper. Meanwhile you've got a $30,000 piece of John Deere equipment in the driveway that cost more than the house!
New Hampshire
No Comments
07.29.
"I hope this is just bad word choice, because this guy had two little girls in the car with him… checked google real quick when I got home for a quick sanity check. Not a business name or a golf course." - Matt
New Hampshire
2 Comments
07.25.
"So this isn't really shaming my neighbor. well maybe kind of shaming half of my neighbor aka the wife. I know that they've been having relationship problems for a long time, but the only way in hell he would sell these two cars that I know for a fact he loves more then that wench is if he needs to pay up for divorce settlement or she gave him an ultimatum." - Anonymous
New Hampshire
1 Comment