Neighbor Disputes
08.01.
"That neighbor stalks me all the time. I hate that our buildings are so close to each other."
Picture by @meli_res
5 Comments
06.01.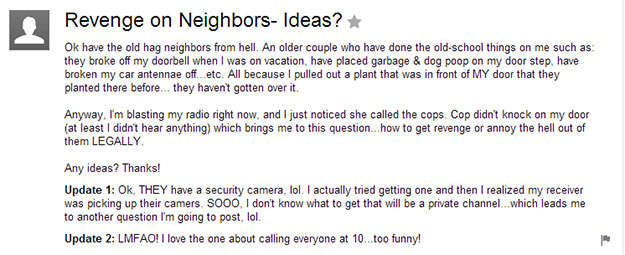 We've all had that sh*tty neighbor that's made us seek revenge in some childish way. Here's a few stories we thought were pretty funny. Can you top these revenge stories?! SHARE YOUR NEIGHBOR STORY WITH US!!
9 Comments
05.28.
"Yeah soooo somehow didn't notice this before we bought the house in February – but just noticed this while doing some yard work out in the back corner of the yard. It's so random and creepy." – Donna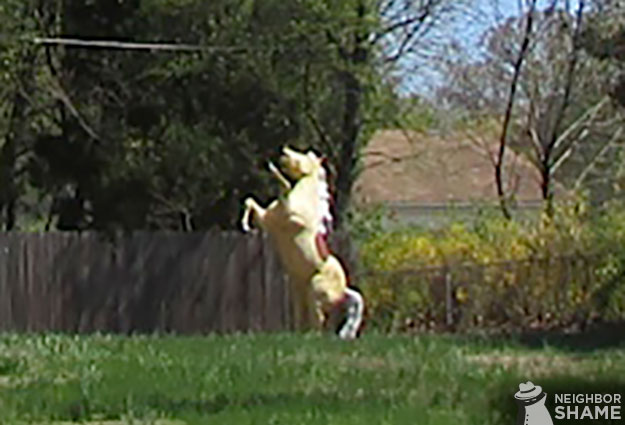 Pasadena Maryland
4 Comments
05.27.
"The whole neighborhood is pissed off at this guy and want him to take the advertisements [on the roof] down. A couple down the street contacted the local newspaper but I don't think they ever got involved." – Whole Neighborhood
Maine
5 Comments
05.18.
"The boat has been sitting in the ditch there for over two years now. Another neighbor asked them if they would at least try to sell it if they weren't going to get rid of it. At least put it in the backyard so the whole street doesn't have to look at your rotting boat!" – A.P.
Maine
2 Comments