Funny Neighbor Stories
12.08.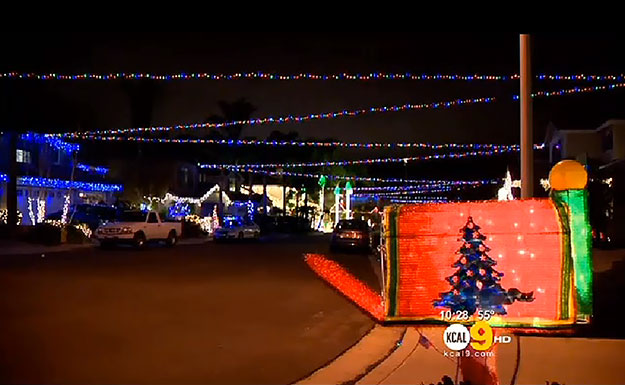 For five years, neighbors in the Wagon Wheel neighborhood of Trabuco Canyon have strung Christmas lights between their homes, with 35 houses participating in the tradition this year. Trabuco Canyon, CA residents are fighting back after the county threatened to fine them if they did not remove their neighborhood's Christmas lights, which authorities say are a safety hazard. 
On Nov. 27, Orange County Public Works sent letters to some homeowners stating they will be fined or prosecuted if they don't remove their lights. "I thought it was ridiculous. It just didn't make any sense to us, and they gave us no out, so we were all pretty outraged," said resident Brian Kopiec, who said the lights represent unity in the neighborhood. Residents fought back after receiving the letter. Neighbor Dannielle Jubb handed out permits to fill out Tuesday night in hopes of resolving the dispute.
SEE THE FULL STORY AND VIDEO HERE
(Trabuco Canyon, CA is a small, affluent unincorporated community located in the foothills of the Santa Ana Mountains in eastern Orange County, California, and lies partly within the Cleveland National Forest.) 
5 Comments
12.02.
If you missed the original post, see it here: THE "NEGROES ARE DANGEROUS" HOUSE
At the popular request of several visitors (we were probably going to do it anyway), we decided it would be fun to make this guy hit the roof. We sent him the following Shame Notice: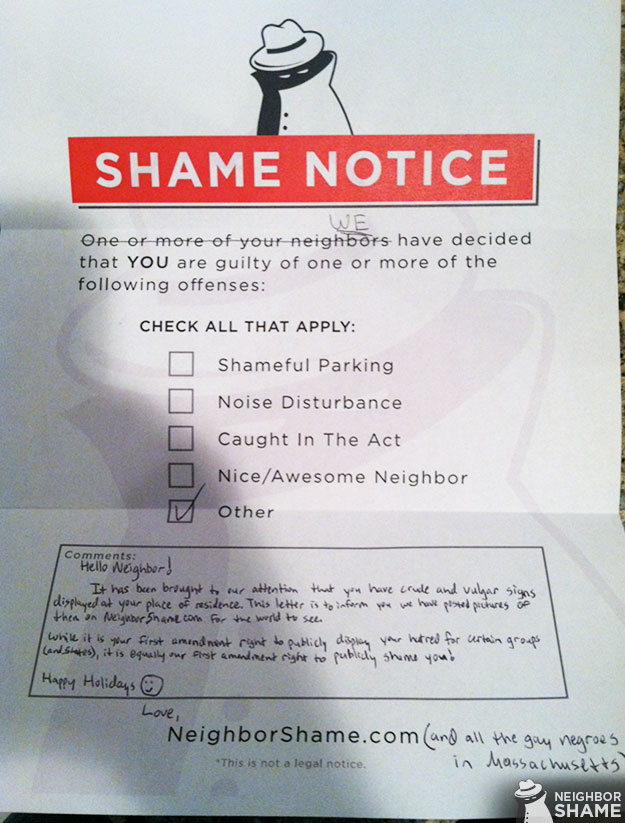 10 Comments
12.01.
Wilton town officials are seeking $100 per day from Duane Pollis for piles of scrap that he says have 'a purpose.'
Town officials are seeking more than $5,000 in mounting fines from a property owner accused of refusing to clean up piles of scrap and junk in his front yard. The homeowner, Duane Pollis, said the new minimum upkeep ordinance is unfair for ordering him what to do on his property.
Pollis was served with the paperwork from the case Oct. 31. According to the summons, he had 20 days to respond in writing to the town's complaint against him. The case will be decided in Franklin County Court in Farmington. He said he has not responded to the town about the case because he feels they will not be able to find a resolution.
Everything in his yard, he said, from the old cars to the five-gallon buckets to the scrap metal, is something he intends to use, recycle or resell. He disagrees with the town ordinance about what he is allowed to do on his property. "I won't cater to them," he said. "I have a purpose for everything I bring here." 
CLICK HERE TO READ THE FULL ARTICLE
7 Comments
11.26.
Christopher Knight (picture shown above) told police he had lived undetected in the woods for 27 years, spoken to only one person in that time, and not made a single purchase since the mid-1980s.
But Knight knew how to steal, authorities said, and how to stay hidden even though his tent lay within 600 yards of the nearest cabin.
Such is the singular world of the man dubbed the North Pond Hermit by the long-spooked residents here, where Knight is believed to have committed more than 1,000 burglaries for food, fuel, tools, and clothing since he left a computer-technician job and retreated to the forest. Now, the 47-year-old is residing in the Kennebec County Correctional Facility in Augusta, facing burglary and theft charges, as banjo players rhapsodize about him and bewildered Mainers shake their heads at the thought of 27 winters in the open.
Until Knight's arrest in April, police had been stymied time and again in their quest to find the elusive hermit. Searches had been conducted in the woods, and troopers slept overnight in the camps. Wildlife cameras in this part of the Belgrade Lakes captured only rare, fleeting images of a man who seemed too well-dressed to be a survivalist. "The problem was this guy was a myth and legend for years. No one knew if he was actually real," said State Trooper Diane Vance, who arrested Knight at a camp for disabled children and adults. "In conclusion, yes, there is a hermit."
Through trial and error, Knight learned how to live through the harsh Maine winters in a campsite obscured by thick trees and ringed by large boulders. He stockpiled enough food in the fall to last until March, deliberately put on extra weight for the winter, and traveled only at night.
READ THE FULL STORY HERE
1 Comment
11.21.
Formally known as the 'Porsmouth Parrot Guy' after some research, Myles Bratter was spotted over the summer by a friend of the staff riding his motorcycle in the Portsmouth, New Hampshire area. Here's an interesting article we found about Myles Bratter and Rainbow:
Myles Bratter and his mild-mannered macaw, Rainbow, will attempt to make history this weekend in support of a local food pantry.
Bratter is trying to create a new record for driving around a race track with an untethered bird. He said he plans to try to make three laps around the race track; the distance and speed portion of the record will be determined by his ride. He said his plan is to be at the race track at 10 a.m., take pictures with people, and then have volunteers walk around the track and collect donations for both the Seacoast Family Food Pantry and the Speedway Children's Charity.
"I'm hoping we can raise a lot of money," Bratter said. Bratter said he's been riding with Rainbow for 17 years now. He said he and his feathered friend have been together Rainbow's entire life."I raised her from an egg," he said. "The first thing she saw when she hatched was me." In the past, Bratter said he's been able to use Rainbow to raise funds for organizations like The Salvation Army. Bratter said people would often donate money to pose for pictures with Rainbow resting on their shoulders.
"We've been taking pictures for almost 17 years now," he said. "All the money we collected out there was going to a worthy cause."
READ THE FULL ARTICLE HERE
5 Comments