Creepy Neighbors
05.15.
We have no patience for Animal Cruelty here at Neighbor Shame. Our friends over at White Trash Repairs tipped us off on this scummy low-life neighbor. Andrea (the white trash bitch shown in the picture above) will be getting a personalized and colorful Shame Notice in the mail from yours truly. Here's her story:
He may be man's best friend. But officials say Andrea Curiel, 29, of Boynton Beach treated her dog like her worst enemy. About two weeks ago, authorities went to Heron Pointe Apartments, 10026 Boynton Place Circle in Boynton Beach, after getting a tip about a caged dog on a third floor balcony, with its mouth taped shut with duct-tape.
"He was in a crate with duct-tape wrapped around his mouth, and wrapped behind his head to prevent him from clawin' it off. Luckily somebody saw this, because this is a horrible situation for a dog.
This person was in the right spot at the right time," said Capt. David Walesky, Palm Beach County Animal Care and Control spokesman. "I just can't believe that people could actually do that to animals. That's like your child, you know," said Robin Erwin, a neighbor.  The dog, a male pit-bull, is now recovering at  Palm Beach County Animal Care and Control and will soon be put up for adoption.
14 Comments
04.13.
Not really a common sight in Maine, but looks like a junkie's paradise was built on the front of this old colonial. Wonder when the last time the homeowner has been by? The good news is that the occupants weren't completely rude and kept the House For Sale sign intact.
Maine
2 Comments
03.25.
"Just in case you thought your neighbor was creepy, I totally win." – Alan
California
1 Comment
03.15.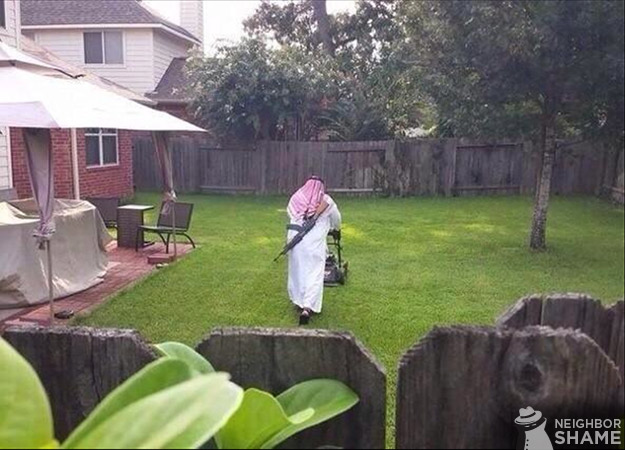 "Should I be concerned about my neighbor?" – Darin
10 Comments
03.11.
"Sorry I didn't get a pic of the guy. He crawls through the window and sits on that chair for hours at a time. I think he tries to see view my sorority sisters and I through the window." -Allie 
7 Comments