04.12.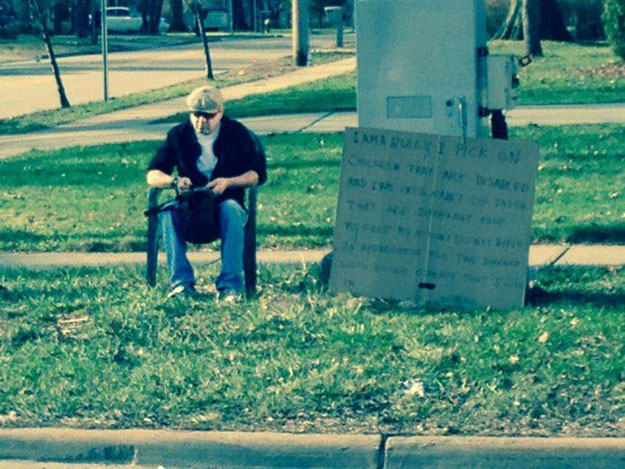 SOUTH EUCLID, Ohio — The man accused of bullying his neighbor for the past 15 years is standing at an intersection here with a sign that says he bullied disabled children following a judge's order.
Aviv, who pleaded no contest to a fourth-degree misdemeanor charge of disorderly conduct, is ordered to stand at the intersection until 2 p.m. with the sign that says: "I AM A BULLY! I pick on children that are disabled, and I am intolerant of those that are different from myself. My actions do not reflect an appreciation for the diverse South Euclid community that I live in."
Court records say Aviv feuded with neighbor Sandra Prugh during the last 15 years. Prugh has two adult adopted children with developmental disabilities, cerebral palsy and epilepsy, a husband suffering from dementia and a paralyzed son.
Records say the most recent case stemmed from Aviv being annoyed at the smell coming from Prugh's dryer vent when she did laundry. Court records say Aviv tried to sue the family in 2010 because the smell bothered him. The case was thrown out. Shortly after, Aviv dumped fabric softener on Prugh's lawn, the letter says.
Court records say Aviv made a device that linked kerosene to a fan in his garage. The fan blew the smell onto Prugh's property, reports say. Prugh called police on April 9 and April 11, 2013, reports say. Firefighters and police discovered the kerosene contraption and made Aviv dismantle it, reports say.
Prugh's letter to the court says that in 1998, Aviv jogged past her and spit on her. He later spit on her again while she was planting flowers in her backyard, the letter says. Aviv later called Prugh a "monkey momma," according to the letter. The letter says Aviv used the slur while she held her two adopted African-American children with disabilities. Prugh also claimed Aviv regularly threw dog feces on her son's car windshield and once smeared feces on a new wheelchair ramp the family built for their disabled children.
2 Comments
04.12.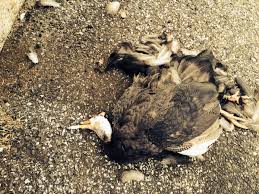 STATEN ISLAND, N.Y. — A festering neighbor dispute in Charleston escalated into assault and animal torture over the weekend, after a 32-year-old woman ran over a guinea hen and shoved a cigarette in its mouth, police allege. Michelle Conti, 32, is also accused of punching her 80-year-old neighbor, Charles (Clark) Gabel, in the chest on Saturday, knocking him to the ground.
Gabel and his wife, Agnes, 57, have been feuding with Mrs. Conti and her husband, who live next door, for at least a year — police make regular appearances responding to Gabel'™s calls, law enforcement sources said, and on Wednesday, Gabel showed off a list of noise and other complaints he has filed with 311.
Meanwhile, a member of Mrs. Conti'™s family has posted a photo on his public Instagram account of a swastika flag hanging on the wall in Gabel'™s barn. On Oct. 22, police charged Mrs. Conti'™s husband, Vincent, 41, with public lewdness, accusing him of pulling down his pants and exposing his genitals to Mrs. Gabel three days prior. That led to an order of protection, and following the events of last weekend, police arrested Ms. Conti on felony charges.
On Saturday afternoon, police allege, she punched Gabel in the chest hard enough to knock him to the ground outside his house. And on Sunday, at 8:32 a.m., she drove into a flock of Gabel'™s guinea hens, which were roaming Sharrotts Road outside his house, and killed one of them, police allege. She then returned to the scene at about 10 a.m., kicked the dead bird and placed a cigarette inside its mouth, police allege.
Mrs. Conti admitted the bird-killing to police, according to court papers, telling them:
"There'™s been an ongoing dispute with my neighbors for over a year. They are driving me crazy and they own over 15 hens. They make noises and sounds from sun up to sun down which cause me not to sleep. They (expletive) all over my yard and street. I drove the car toward the flock of birds, hitting one of the birds. I stopped one house over and got out of the car, walked to the bird and took a picture of it. I later came back, kicked the bird and put a cigarette in its mouth. œI was being a jerk, that'™s not a crime. I usually go up and down the block and the birds scatter, and I've never hit one before."
Gabel said he keeps the birds in part for companionship, in part because they eat ticks and stinkbugs. When he gets enough of them, he said, he may sell or give them away to parks officials in Long Island. "œI'™m here all day by myself. Nobody comes. I play with them, I watch the birds."
No Comments
04.11.
"We lived in the upper half of a duplex and our crazy neighbors piled every piece of tacky crap into our shared lawn as you can imagine. Small wire fences, barrel pots, arches, ceramic deer and even a pink flamingo (not pictured). Not only that, but they were awful to live above. They called the police on us twice for "walking loudly."
– Washington
11 Comments
04.04.
"
"This is known as the hobbit house. Apparently he has over a dozen secret passages throughout the house and property."
Maine
4 Comments
04.01.
San Marino Mayor Dennis Kneier got into trouble over the weekend after tossing a bag of doggy doo-doo on his neighbor Philip Lao's yard. Unfortunately for the southern California official, Lao's surveillance camera caught him in the act, and Kneier was forced to apologize for the incident.
San Marino Mayor Dennis Kneier had been walking with his wife Liz that day when he noticed the bag by a lamppost. Instead of disposing of it, he threw it onto Lao's doorstep— something the neighbor felt was done intentionally, as the two have been at odds in the past. Lao has a large "No Poop Zone" sign in his yard that neighbors repeatedly asked him to remove, and he has been staunchly against a proposed dog park in the area.
So when Lao checked the footage to see how the paper bag of dog poop got on his property, he was upset when he found out that it was the Mayor Kneier. "We have not been able to sleep at night for a while because of this," Lao told The Los Angeles Times.
However, Kneier said what happened was unintentional, and he never intended to fling the refuse onto his neighbor's property. "I didn't think about it. It was not premeditated. Nobody put a gun to my head and said put it down there," the mayor explained. He added that he wasn't concerned about the proposed dog park or the sign.
"Rather than leave it or dispose of it properly, I placed it on your side walkway," the mayor wrote to his neighbor Monday. "This was a mistake, for which I apologize. It won't happen again." Lao has not accepted Kneier's apology, saying the mayor is "lying" about how the events took place. He plans to address the City Council during their regular meeting Wednesday.
5 Comments