11.25.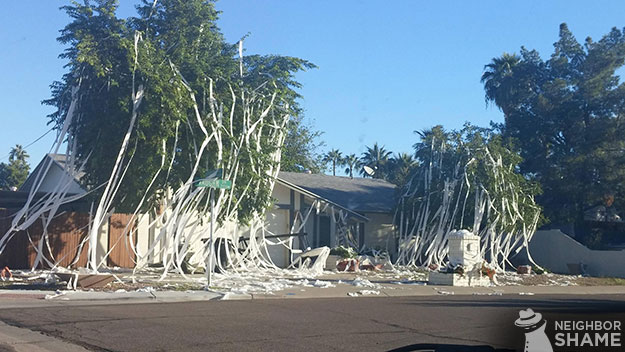 "Been meaning to send this. This was down the street after halloween. Never met him, but I heard he's an asshole" -Kendall
2 Comments
11.19.
"Are you looking for some " neighborshame.com " holiday fun ?? My smile, black marker and body are ready for your short message tribute!! Will message photos to " neighborshame.com " promptly for you !! Thanks so much.. jeffrey." – Jeffrey, Twin Lakes, Wisconsin
You heard him! I guess this means Jeffrey is officially for hire. I know what you're all thinking… FINALLY.  Write him a short holiday message in the comments – he'll write it on his body and send us more creepy selfies which we'll be sure to post. So fire away! There's no WAY this will get weird!
2 Comments
11.18.
"Does your neighbor have a life size Santa mannequin in their window? Mine does." – Liz
No Comments
11.18.
"This is not acceptable neighbor behavior. I should not see this every day outside of my window." – Erin
3 Comments
11.17.
"The rotting camper is blocking a lot of the junk but you get the picture. People in this state assume that rural living has to include mandatory piles of junk and trash like these people. Probably time to move back to the city where people respect themselves." – Becky
New Hampshire
3 Comments