08.07.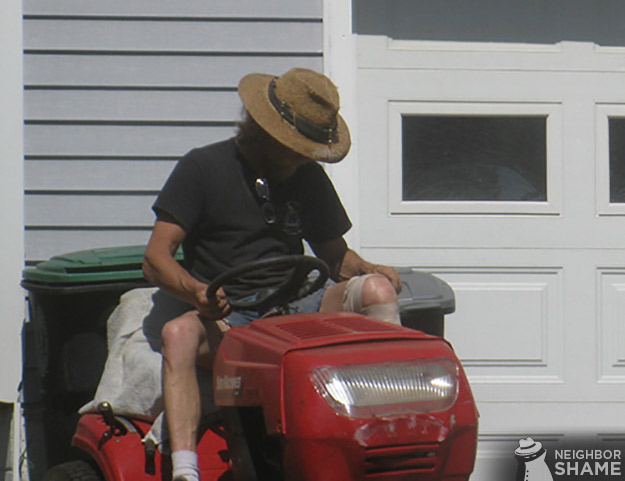 "My alcoholic neighbor Tim at 8am on a Sunday trying to mow his lawn. Only problem was he kept backing the tractor into the garage or his trash cans repeatedly and couldn't seem to figure out how to get it go forward. I kept hearing a banging noise and finally went to the window to check it out lol. Keep tryin Tim!!!"
New Hampshire
4 Comments
08.07.
"It was hard to get a good picture because the guy is a complete creep and was outside when I drove by. He has this tree statue carving with a weird looking elongated face on it – it also has arms and a whip and other strange decorations. Probably what he does to his wife and kids quite frankly. He loves to stare people down and taunt them as they drive by so I'm sure he's a family man! He's typically dressed in some sort of racist-fueled outfit with a confederate flag t-shirt or bandana, he the bandana on today." – Rachel
Vermont
2 Comments
08.07.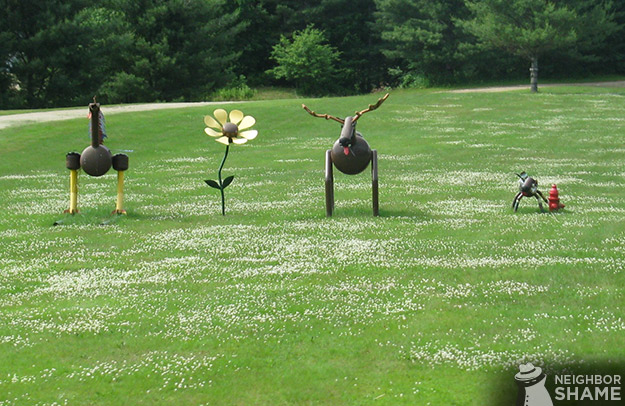 "I guess this is supposed to be like one of those stick families on people's cars. Love the little moose looks like he is peeing on the fire hydrant! I guess that's their 'dog'? lol" – Jess
New Hampshire
No Comments
08.06.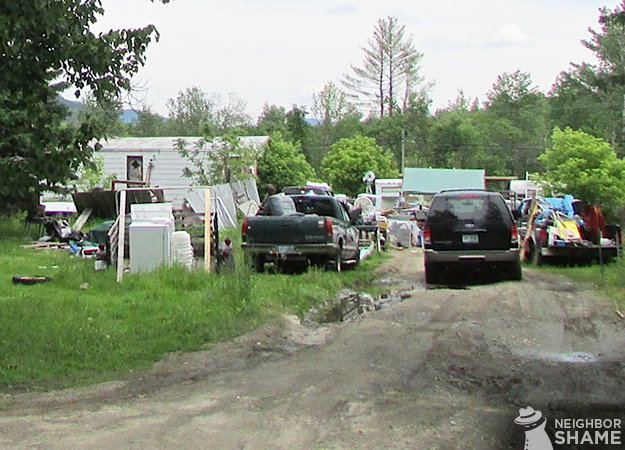 Front (above) and back (below)
I love it when a property is so shameful it needs no introduction… other than the address of course. Piglets!!
133 Old Village Rd Northumberland, New Hampshire
1 Comment
08.05.
"My weirdo neighbors who used to stare at us like we were freaks when we pulled our weeds recently moved out.  This is their yard AFTER they cleaned it up!  Yes it used to be a lot worse!!  Notice all the weird DIY repairs and remodeling.  The man of the house actually worked as a Construction foreman!  It was very amusing to watch him go through his un-shingled roof earlier this year while hooking up his swamp cooler.  This house is supposed to be getting the addition torn down as he built it without permits and without following neighborhood covenants.  I honestly was starting to suspect they were tweekers even though they were supposedly devout Mormons.  Wierdos!"– Seth 
Colorado
No Comments