07.12.
A Florida man is facing an arson charge after police say he set fire to a Tampa, FL apartment complex to get back at the management for requesting that he no longer masturbate in front of the windows or the open door.
Four people were left homeless as a result of the fire, according to Tampa Fire Rescue officials, which broke out just after 10 p.m. at the Mar Plaza Apartments at 4817 E Temple Heights Road, near Busch Boulevard and N 56th Street.

A resident of one of the apartments told police that his neighbor, Kenneth Haskins, 58, admitted to setting the fire, according to an arrest report. Haskins, who lives in the apartment where the fire started, later told detectives that he wanted to get back at the company that manages Mar Plaza, police said. His reason: They had recently told him to stop masturbating in front of his open windows and front door, according to police. He was arrested on a charge of first-degree arson and held in the Orient Road Jail without bail.
Haskins, who has lived there for more than a decade, suffers from facial disfigurement that is the result of having previously shot himself in the face with a shotgun, according to Tampa police.

7 Comments
07.11.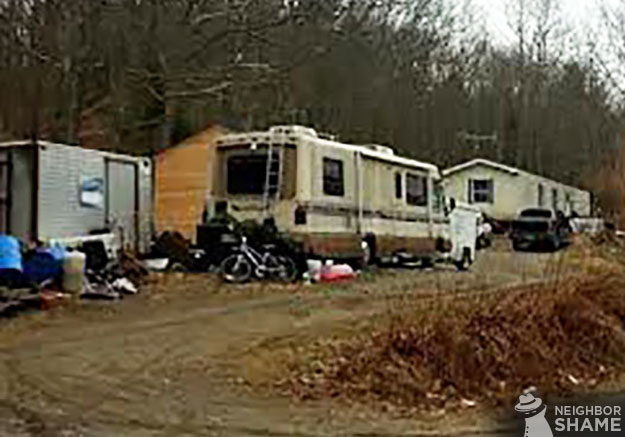 "My dad made a special trip to the town office pleading he should be paying less property tax due to this lovely property." – "Boo man"
Boothbay Harbor Region
1 Comment
07.11.
Every time we come across a neighbor as unique as Bob here, there's bound to be something else out on the web. CLICK HERE to check out a bizarre YouTube video Bob made for his welding art!
Lyndon, Vermont
4 Comments
07.11.
PUYALLUP (WA.) – A 20-year-old man has been booked into jail for the suspected hash oil making operation that set off numerous explosions outside of a Puyallup home Tuesday night.
He's facing several charges, including reckless endangerment. Police and fire department crews responded to multiple reports of explosions in the 1500 block of Shaw Road just before 11 p.m. Tuesday.
"There were huge fire bombs," said Morris Hernandez, a neighbor. "I mean massive.  Yeah, it was crazy." Police found the part of the house on fire and multiple explosions going off  in the driveway area, Capt. Scott Engle reported.  There were numerous people at the home at the time of the fire and explosions. Several people fled  the home as more police arrived.
Police said the people at the home had constructed a huge marijuana drug lab in their yard, using hundreds of cans of butane gas that blew up, with some landing up to 100 feet away. "The dangers of these is just out of this world,"said Engle. Drug agents tells us it's the largest hash oil lab they've found, and they've seen plenty this year, with explosions and fires that have rocked neighborhoods around the state.
Despite the fire and explosion, no one was hurt, Engle said. Still, Morris Hernandez is troubled by the news of the hash lab so close to his property and what it means for the future. "I'm concerned for the community. I'm not sure the passing of this marijuana law is the best thing. I think it's opened up a lot of doors."
4 Comments
07.10.
Not too often do we get the ol' thumbs up but these guys were pretty proud of their fancy rooftop guardian. It's not always about hoarders and buttcracks, there's some funny neighbors out there too!
Lyndonville, Vermont
No Comments