07.18.
"My old man taught me to always treat people that serve you food and deliver your mail with unwavering respect. Leaving a passive aggressive note for the mailman probably gets you blacklisted on some secret mailman list." – Anonymous
New Hampshire
4 Comments
07.17.
"Don't take your kids here – these people have hoards of crap all over their yard and think it's normal to run a daycare with that type of a yard!" – L.T.
1048 Rt 126, Barrington New Hampshire
No Comments
07.17.
Nestled in this pile of crap… is a wooden cutout of a smiling pile of crap. See if you can find it!
Oakridge Dr, Somersworth NH
No Comments
07.17.
"Saw this in my hallway and knew exactly what happened. Our landlord's "handyman" is not handy at all- and apparently yesterday Jake was cleaning up his mess with my neighbor's towels." -Dan T. 
Wallkill, New York 
No Comments
07.16.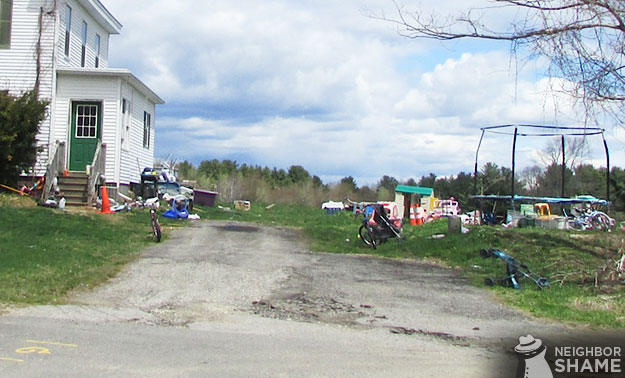 "Saw this pig sty leaving the John Deere dealership down the road. Glad I don't live next to these people!!" – Robert
21 Route 9, Dover, New Hampshire
No Comments