07.31.
It's easy to be jealous of your neighbor for having a sweet inground pool. The grass may seem 'greener on the other side', but sometimes the water can be too!
No Comments
07.31.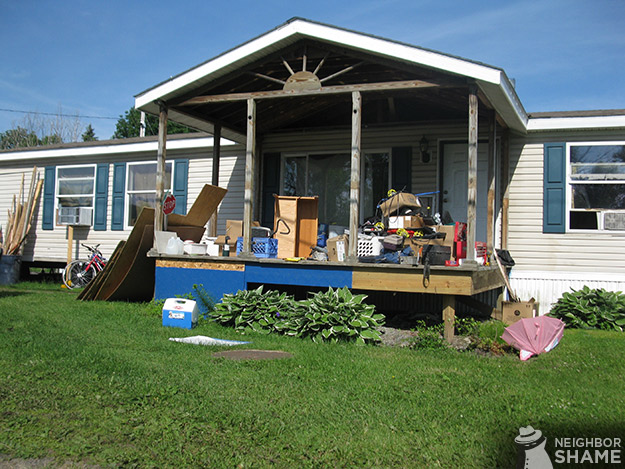 "These people are insane and it looks like they're thankfully moving out although the place has looked like this for a month. I was walking my dog by last night and they were all inside drinking and fighting louder than usual for the whole neighborhood to hear. Real classy!!!" – A.D.
Montpelier, Vermont
1 Comment
07.30.
That house is looking pretty sad… and I'm pretty sure that door is either from a refrigerator or a 1970's camper. Meanwhile you've got a $30,000 piece of John Deere equipment in the driveway that cost more than the house!
New Hampshire
No Comments
07.30.
I personally wouldn't do this, but you could do a lot worse! What's the verdict… tasteful or tacky?!
Massachusetts
4 Comments
07.29.
"I hope this is just bad word choice, because this guy had two little girls in the car with him… checked google real quick when I got home for a quick sanity check. Not a business name or a golf course." – Matt
New Hampshire
2 Comments