06.16.
"To my neighbor: The grass doesn't cut itself." @ErikThe_BikeMan
Is your neighbor's grass worse than this?! Prove it. SUBMIT YOUR NEIGHBOR'S YARD!
3 Comments
06.13.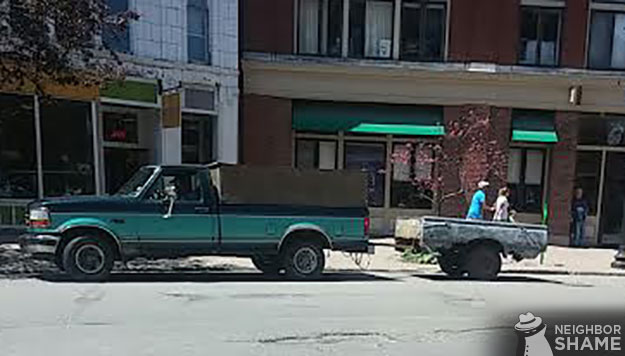 "Let me introduce you to Charlie! Kind of a local legend. This animated guy brings his "trailer" every Saturday for the farmers market and fills it up. The farmer market vendors seem to enjoy him anyway." – Kelsey
Bangor, Maine
2 Comments
06.13.
"Neighbor has a Mr. Potato Head paper mache thing on the front porch. They're really nice, just think its kind of funny!"
Maryland
1 Comment
06.13.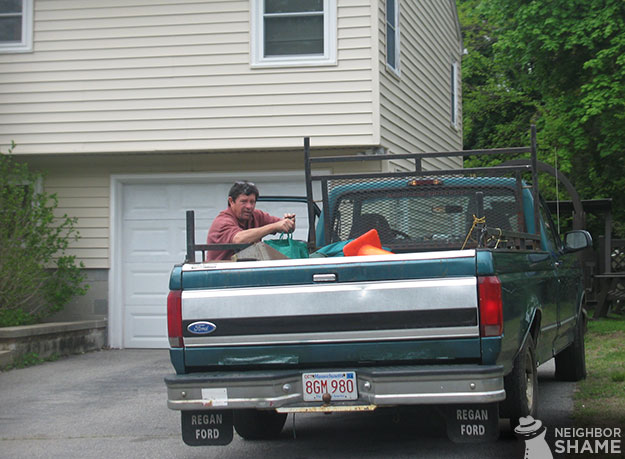 "Thanks for constantly harassing me and my husband about oh I don't know. EVERYTHING. Blah blah blah my tree branches are hanging over your fence, our kids play 'too loud', our sprinkler was 'spraying your grass with evil water' (that was my favorite). Anything to just complain. I'm sorry your wife left you John, but don't take it out on US." – The Neighbors
Massachusetts
3 Comments
06.12.
"Looks like a band owns this hearse based on license plate and the ZZ Top looking dude driving it. The skeleton family on the back window is a nice touch!" – Josh
I-95 Kennebunk, Maine
1 Comment