06.30.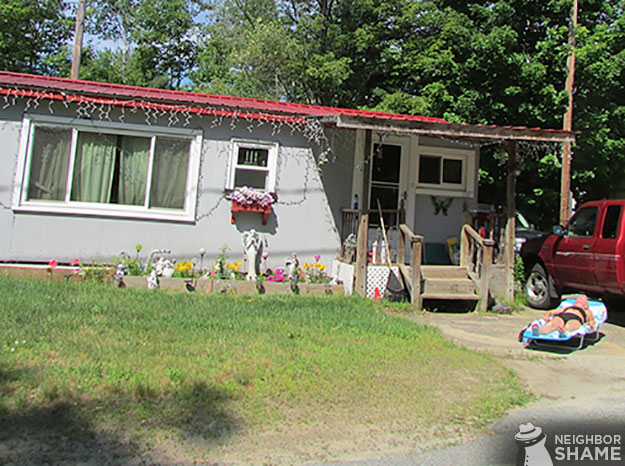 Would only take 10 minutes of your time and a 6 foot ladder to get the lights down, but who has time for that when you can get a tan instead? Shame!
Franklin, New Hampshire
2 Comments
06.30.
"This is a local nursery in Pennsylvania – they put a 'commercial' on Youtube about all these people they know that bought trees because they hate their neighbors. It's one of the more awesomely pathetic things I've ever seen in my life.. it goes off the rails like halfway through." – MB
Pennsylvania
No Comments
06.30.
"Moving to twin lakes wi ?? If so, i would love to show you a few vacant apartments down the hallway  !! Just imagine…  i could be your neighbor!!" – Jeffrey
Twin Lakes, Wisconsin
(For those of you that haven't had the pleasure of seeing a Jeffrey selfie, CLICK HERE for his Neighbor Shame debut…)
3 Comments
06.30.
We're a fan of this fan's creative way to display the current field of the World Cup. Go USA! Beat Belgium!
Vermont
1 Comment
06.27.
"My neighbor using his canoe in my backyard." Picture by @TanyaORourke
Ohio
2 Comments