01.20.
"Need privacy? Just rip off all your shutters and make a fence out of them. C+ for ingenuity. A+ for Creepiness."
– Katharine
3 Comments
01.20.
If the mustache pirate looking man on the shed doesn't spell creep, the stuffed animals hanging from the clothesline clears up that debate. Can somebody be normal AND live at this house? You be the judge… although we say hell to the no.
– Bangor, Maine
9 Comments
01.20.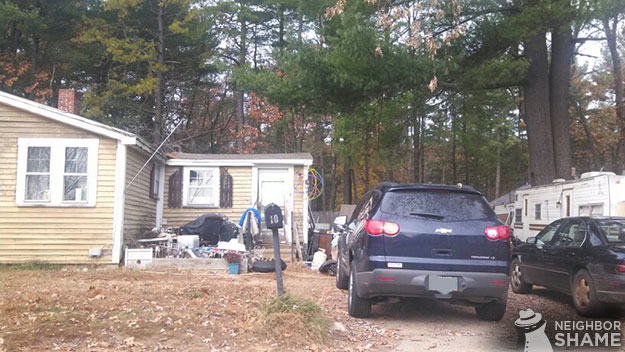 Is that a Hoberman Sphere hanging next to the front door?? Good thing that's not tacky. It's a shame this neighbor's cars were in the driveway, because the backyard was a REAL treat.
– Farmington, New Hampshire
No Comments
01.18.
"My shameless neighbor Steve, goes through my garbage looking for "stuff he can use" UNBELIEVABLE !!!"
– Alex Neal
9 Comments
01.17.
"Still curious as to where this upper door leads to or if this is how they get revenge on their drunk friends when they've stayed too long."
– H. Carter, Stilwell, Oklahoma
1 Comment