01.29.
It looks like this landlocked pirate has collected his fair share of booty! I can't help but think of Steve the Pirate from Dodgeball…
– Massachusetts
2 Comments
01.29.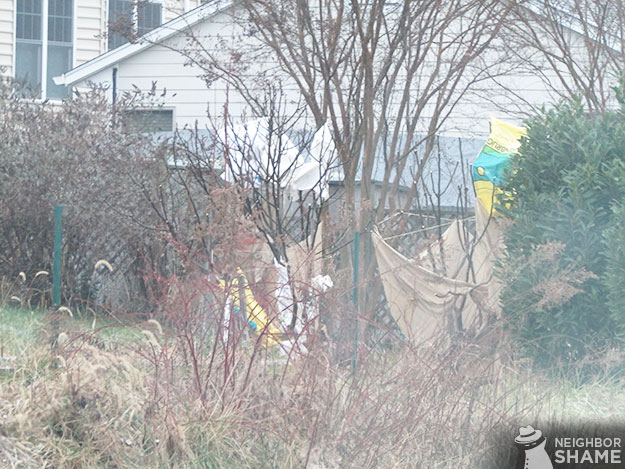 "Our neighbor has had these random bags hanging from their dead bushes since we moved in last March. They also NEVER mow their lawn !!"
– Jessica & Rachel, Annapolis, Maryland
2 Comments
01.28.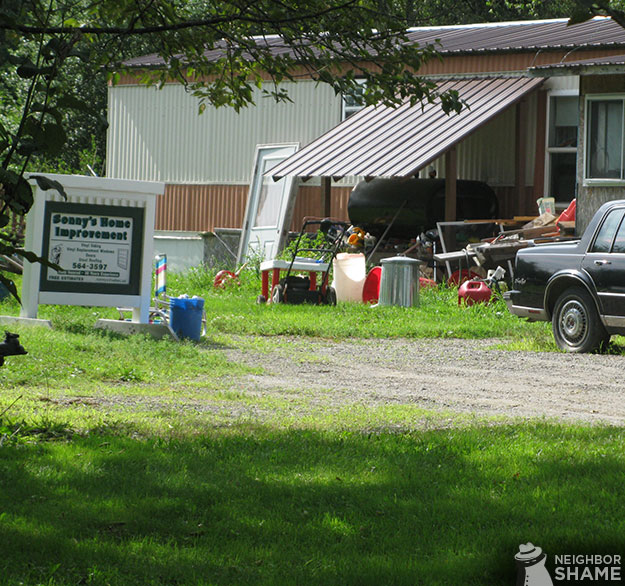 Would you call Sonny for your Home Improvement needs?
– Sebec, Maine
12 Comments
01.28.
I love the smiley face dude leaning against the house. Bet he gets put roadside in the summer!
– Danielson, Connecticut
No Comments
01.27.
This one is up for dispute in the office. Well… the paint job is at least, we're all in agreement that a couple of piglets live here. As for the paint, half of us think the garage is inspired by the New England Patriots given the proximity of the house to Gillete Stadium, the football poster on the side door and the color scheme. You tell us who's right and who's wrong!
– Massachusetts
Does your neighbor have a shameful or noteworthy garage?! Send it to us!
4 Comments